70% of the variance in culture can be attributed to team leaders and managers.
When managers provide meaningful feedback to employees, those employees are 3.5x more likely to be engaged.
With Gallup Access, an online, subscription-based platform for organizational leaders, you can now create a workplace where managers and employees are more connected to their teams and your organization — fostering increased clarity, engagement and performance at all levels.
Strengthen performance across your organization with the platform's wide range of tools designed to empower leaders and managers to ask the right questions, analyze and understand the results, and act with a clear plan for the future.
Ask the Right Questions
Choose surveys that are scientifically linked to business outcomes.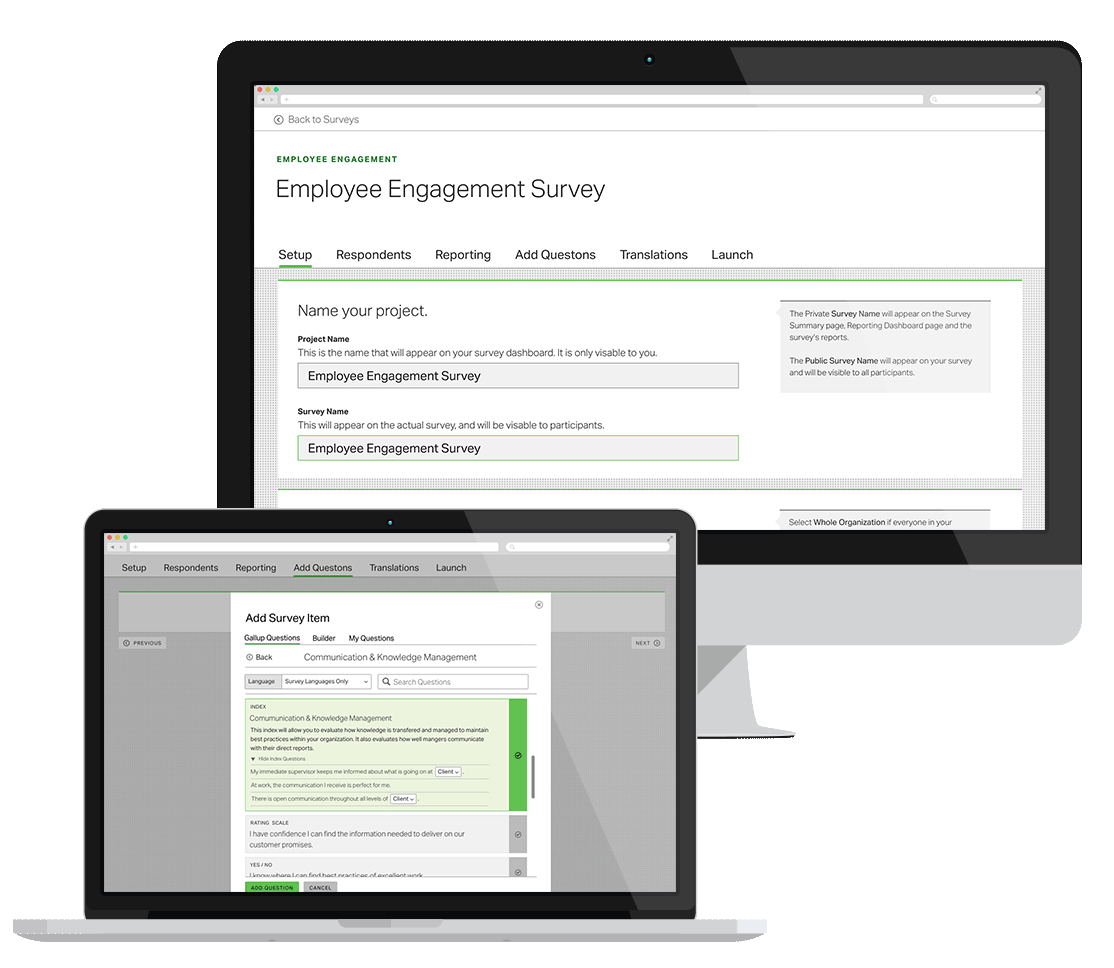 Unlike offerings from other providers, Gallup's employee surveys are scientifically linked to business outcomes. Within Gallup Access, you can use Gallup's unlimited survey engine, called George, to ask research-backed questions that will give you the critical information you need.
Results That Matter
Ask pulse survey questions on any workplace topic by choosing from over 180 approved and tested questions and indices including employee engagement, customer outcomes, culture change, performance management, diversity and leadership.
Surveys That Deliver
Gallup's 12 questions in the Q12 survey are the most powerful predictors of employee engagement. You can also gain valuable, predictive insights into your customers' engagement with our three-question CE3 survey.
Analyze Your Results
Discover the answers you need.
With survey results in Gallup Access, you can identify opportunities to drive business outcomes within teams and across your organization. The platform organizes your data in a way that leaders of all levels can easily understand and translate into effective action items.
Create advanced data cuts to uncover what's working and not working for your organization.
Determine what matters most for differentiating your business by comparing your survey results to over 200 available industry, regional and functional database segments.
You can easily compare survey results across your organization with customizable reporting heatmaps.
Act With a Clear Plan
Move forward with confidence.
Gallup Access delivers online learning tools and communication solutions to help you answer the question: What do I do next?
Our world-class learning resources reflect decades of research on high-performing teams.
And our action-planning solutions empower you to create meaningful change.
Everything you need to know
The Learn tool provides access to relevant documents, videos and articles to help you increase your knowledge and maximize your use of the other tools available on the platform.
Manage important subscriptions
Receive email alerts about a variety of performance-based topics, including accountability, customer service, diversity and productivity.
Address real business outcomes
Whether your next move is to develop strategic synergy or to find cost-effective solutions, the Action tool lets you cross items off your list for maximum organization and efficiency.
Quickly Determine Your Next Steps
The Plan Status area provides the number of actions you have created and each one's status so you can be a better manager.
Focus on Strengths
Help your team do what they do best.
Develop thriving managers and teams by providing them with CliftonStrengths solutions, now available in Gallup Access.
The CliftonStrengths assessment helps you identify your team members' unique strengths to increase their engagement, build teamwork and achieve breakthrough results.
According to Gallup's study, workgroups that received strengths-based development had:
14%-29% increased profit
10%-19% increased sales
Lead your team to greatness with CliftonStrengths.
Within Gallup Access, you can easily track, manage and distribute codes for the CliftonStrengths assessment.
By using the assessment and the strengths-related tools in the platform, you will:
help your team members discover what they do best and develop their strengths by having them take the assessment and create action items for growth
gain a clearer picture of your team's talents through the Team Grid function to understand and leverage the diverse strengths of your team
position your people to succeed by using their personalized CliftonStrengths results to create stronger teams and provide hands-on learning opportunities
Mobile Access
Gain anytime access to the analytics that matter.
With the mobile app, review results faster while going about your day.
Put your team's latest information at your fingertips when you download the Gallup Access app.